Blow up #227 [aprile 2017]

Blow up #227 [aprile 2017]
PREZZO: 10,00€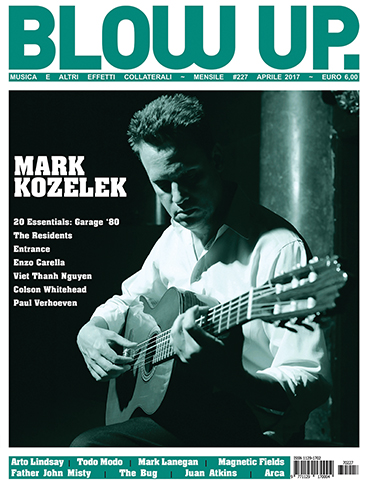 MUSICA
Mark Kozelek
/ di Alessio Budetta
Tra depressioni atmosferiche, guantoni da boxe, risse verbali e flussi di coscienza, cerchiamo di scrutare più da vicino l'irrequieto musicista alle prese con una malinconia che non vorrebbe finire mai.
The Residents
/ di Luca Majer
Frigoriferi, Homer Flynn e la saga dei Residents.
Entrance
/ di Roberto Curti
"Book of Changes" è uno dei dischi dell'anno. Abbiamo chiesto a Guy Blakeslee aka Entrance di raccontarcelo.
20 ESSENTIALS: Neo Sixties Garage 1981-1990
/ di Roberto Calabrò con Fabio Polvani
I 20 album più importani del revival sixties-garage degli anni '80 scelti e recensiti.
Enzo Carella
/ di Piergiorgio Pardo e Christian Zingales
La musica è un'infanzia sudata. In ricordo di Enzo Carella.
Rubriche
: Cosa Nostra, Talktalk, Grand Tour, Visti & Sentiti, Cabinet Of Curiosities, Timeline, Recensioni, Runners, Trax, Ripeschiamoli
COLLATERAL
Che ne sappiamo dell'America?
/ di Maurizio Bianchini
Viet Thanh Nguyen e Colson Whitehead: due romanzi per una Nuova Consapevolezza.

"Elle" di Paul Verhoeven
/ di Alberto Pezzotta
La manifesta superiorità della civiltà occidentale.
Una lotta incompiuta
/ di Antonio José Navarro
Il cinema afroamericano nell'era Obama.
Il restauro cinematografico
/ di Domenico Monetti
Ritorno al passato.
Rubriche
: Graphix, Paint It Black, Recensioni libri, Clisteri
…tra le recensioni:
Acid Pauli
Alberto N. A. Turra
Alessandra Novaga
Arca
Arto Lindsay
Blaenavon
Bob Dylan
Clark
Cleo T.
Dans les arbres
Dargen D'Amico
Emidio Clementi e Corrado Nuccini
Enore Zaffiri
Father John Misty
Future Islands
gianCarlo Onorato
Gianni Mimmo
Goldfrapp
Jake Xerxes Fussell
Johnny Casino
Julia Holter
Laino & Broken Seeds
Lonesome Wyatt and the Holy Spooks
Mark Lanegan Band
Marta Collica
Mattin
Mount Eerie
Oiseaux-Tempête
Pharmakon
R. Stevie Moore & Jason Falkner
Robyn Hitchcock
S A R R A M
Sodastream
Soulwax
Stefano Ghittoni & DJ Rocca
Stormzy
Sun Kil Moon
Tamikrest
The Bug Vs Earth
The Magnetic Fields
The Shins
Timber Timber
Todo Modo
Trans Am
Utveggi
Why?
Wire
Zu
Tag: Blow up #227 [aprile 2017]
TUTTLE Edizioni - P.iva 01637420512 - iscrizione rea n. 127533 del 14 Gennaio 2000