Blow up #238 [marzo 2018]

Blow up #238 [marzo 2018]
PREZZO: 10,00€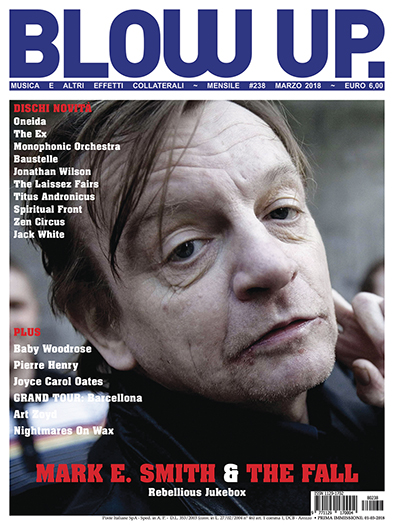 MUSICA
Mark E. Smith & The Fall
/ interventi di Stefano I. Bianchi, Federico Savini, Federico Guglielmi, Dionisio Capuano, Paolo Bertoni, Daniele Rosa, Eddy Cilìa, Marco Sideri, Antonio Ciarletta, Andrea Amadasi, Massimiliano Busti e Diego Favrin
Un omaggio collettivo a Mark E. Smith e alla sua creatura, i Fall, a due mesi dal loro decesso, avvenuto prematuramente a sessanta e quaranta anni.
Baby Woodrose
/ di Roberto Calabrò
Viaggio attraverso le mille vite e le avventure psichoattive del Comandante in capo degli equipaggi spaziali Baby Woodrose, Dragontears, Spids Nøgenhat: Uffe Lorenzen.
Art Zoyd
/ di Bizarre
La Cuneiform pubblica un box colossale che ripercorre la carriera degli Art Zoyd, leggendario gruppo francese d'avanguardia che fece parte del collettivo Rock In Opposition. Un'occasione per riscoprire la loro storia.
Nightmares On Wax
/ di Christian Zingales
Un percorso ormai trentennale per i Nightmars On Wax di George Evelyn. Il nuovo "Shape The Future" è il terzo classico della sua bellissima discografia.
Pierre Henry
/ di Piercarlo Poggio
Libertà e immaginazione. Ovunque posasse gli occhi, lì c'era musica da catturare. Pierre Henry, compositore senza carta e matita, ci lascia un abbacinante cosmo sonoro destinato a sopravvivergli in eterno.
Rubriche
:
Cosa Nostra
: lettere al giornale / di Stefano I. Bianchi
Talktalk
: news / di Federico Savini
Grand Tour
: i posti giusti
Visti & Sentiti
: dal vivo
Tin Pan Alley
: proteste contro la realtà inesorabile / di Daniele Rosa
Cabinet Of Curiosities
: stranezze e rarità tra ieri e oggi / di Vittore Baroni
Timeline
: nel corso del tempo / di Stefano I. Bianchi
Recensioni
Runners
/ di Salvo Pinzone
Trax
/ di Christian Zingales
Ripeschiamoli
: sommersi, dispersi, salvati, recuperati
COLLATERAL
Joyce Carol Oates
/ di Luca Malavasi
Recentemente tradotta la tetralogia che, tra il 1967 e il 1971, afferma la forza di scrittrice di Joyce Carol Oates. Il momento buono per fare il punto.
"La forma dell'acqua" di Guillermo Del Toro
/ di Alberto Pezzotta
The Creature from the Black Lagoon Gets Laid…

"Il filo nascosto" di Paul Thomas Anderson
/ di Gabriele Gimmelli
Dellamoda Dellamorte
Philippe Garrel
/ di Rinaldo Censi
I primi film di Philippe Garrel
Rubriche
:
Paint It Black
: noir, giallo, poliziesco/ di Roberto Curti
I Libri del Mese
Graphix
: fumetti, graphic novel, strisce
Televisionication
: la serialità televisiva contemporanea / di Luca Malavasi
…tra le recensioni
:
15-18
Alessandra Rombolà
Alessio Bonomo
Arto
B. Fleischmann
Baustelle
Beatrice Antolini
Blow Up Percussions
Brother JT
Buffalo Tom
Creta
David Byrne
Die Tödliche Doris
Elena Ledda
Everything is Recorded
Femi Kuti
Fu Manchu
Giuda
Grant Lee Phillips
Jack White
Jérôme Noetinger
Jonathan Wilson
Justin Timberlake
La Compagnia del Trivelìn
Laurie Anderson & Kronos Quartet
Le Millipede
Meganoidi
MGMT
Miracle
Moby
Monofonic Orchestra
One Dimensional Man
Oneida
Paolo Saporiti
Preoccupations
Red Lines
Richard Youngs
Rome
Spiritual Front
Suuns
The Beautify Junkyards
The Breeders
The Decemberists
The Ex
The Laissez Fairs
The Third Eye Foundation
Titus Andronicus
Turbonegro
Ursula K. Le Guin & Todd Barton
Whyte Horses
WK569
Yann Novak
Yo La Tengo
Yombe
Young Fathers
Zen Circus
Žibuokle Martinaityte
Tag: Blow up #238 [marzo 2018]
TUTTLE Edizioni - P.iva 01637420512 - iscrizione rea n. 127533 del 14 Gennaio 2000