Blow Up #273 [febbraio 2021]

Blow up #273 [febbraio 2021]
PREZZO: 10,00€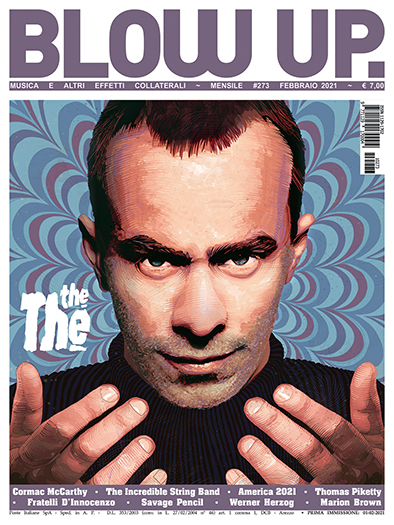 MUSICA


The The
/ di Christian Zingales
Mentre ha appena ristampato il rarissimo esordio "See Without Being Seen" e pubblicato la nuova colonna sonora "Muscle", un viaggio nell'opera emotiva e umanistica di Matt Johnson aka The The.
Musiche per Cormac McCarthy
/ di Antonio Ciarletta
Risonanze letterarie: la presenza di Cormac McCarthy sull'immaginario musicale americano.
RPM: The Incredible String Band "U"
/ di Vittore Baroni
Il capolavoro della band cardine del folk psichedelico inglese nei ricordi e nell'analisi di un ascoltatore d'eccezione.
Cabinet of Curiosities:
Savage Pencil
/ di Vittore Baroni
La Singolare Miscela di Bert:
Marion Brown
/ di Riccardo Bertoncelli
Shooting Stars:
The Cryan' Shames
/ di Roberto Municchi
The Desert Island Records:
Damiano e Fabio D'Innocenzo
The Desert Island Records:
Il Quadro di Troisi
Rubriche
:
Offside: ricerche minerarie e perdite di tempo [una specie di editoriale] / di Stefano I. Bianchi
Il piatto del giorno: cose buone dal mondo / di Federico Savini
Tin Pan Alley: proteste contro la realtà inesorabile / di Daniele Rosa
Contra-Banda: sguardi dalle retrovie dell'impero / di Luca Majer
Inner City Blues: Blackness etc. / di Carlo Babando
Talktalk: news / di Federico Savini
Rock Shots: scatti immortali / di Roberto Calabrò
Camera Ardente / di Stefano I. Bianchi
Play=Lista: 10 canzoni per…
Spot On
Recensioni
Runners / di Salvo Pinzone
Trax / di Christian Zingales
COLLATERAL


America 2021: Capitol Thrill
/ di Maurizio Bianchini
Parerghi e paralipomeni di un'insurrezione supposta.
Thomas Piketty
/ di Fabio Donalisio
Qualche dissezione e divagazione su "Capitale e Ideologia".
Dal romanticismo al docureality
/ di Alberto Pezzotta
"Fireball" e "Family Romance, LLC" di Werner Herzog
Animula vagula
/ di Alberto Pezzotta
"Soul", di Pete Docter e Kemp Powers
Rubriche
:
I Libri del Mese
Graphix: fumetti, graphic novel, strisce
Paint It Black: noir, giallo, poliziesco / di Roberto Curti
Play=Lista Cinema: 10 film… / di Roberto Curti
Titoli di Coda / di Paolo Mereghetti
…e oltre 250 recensioni tra dischi nuovi, rewind, libri e fumetti
Tag: Blow Up #273 [febbraio 2021]
TUTTLE Edizioni - P.iva 01637420512 - iscrizione rea n. 127533 del 14 Gennaio 2000