Blow Up #282 [novembre 2021]

Blow up #282 [novembre 2021]
PREZZO: 10,00€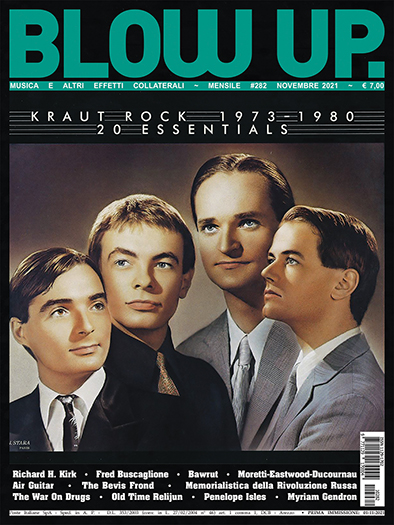 MUSICA

Richard H. Kirk / Cabaret Voltaire
/ di Vittore Baroni, Massimiliano Busti, Federico Guglielmi e Christian Zingales
Un altro dei protagonisti più in vista dell'epoca new wave / post-punk ci ha lasciato. Noi gli rendiamo omaggio e lo salutiamo ricordandone trasversalmente l'opera dai Cabaret Voltaire alla carriera solistica, dai cut-up alla Doublevision fino all'immersione nei mondi techno e house.
Bawrut
/ di Christian Zingales
Esce "In The Middle", l'atteso album della nuova incarnazione dell'ex Scuola Furano Borut Viola, goriziano a Madrid.
Fred Buscaglione
/ di Piercarlo Poggio
La domanda è: a cent'anni esatti dalla nascita vale la pena riascoltare Buscaglione? La risposta è: sì.
20 ESSENTIALS: Kraut Rock pt.2: 1973-1980
/ di Eddy Cilìa con Antonio Ciarletta, Luca Collepiccolo, Gino Dal Soler e Luca Majer
Secondo e ultimo speciale dedicato agli album essenziali per conoscere il Kraut Rock, la più formidabile fucina di talenti della storia del rock fuori dai confini anglosassoni. Imperdibile!
Cabinet of Curiosities:
Air Guitar
/ di Vittore Baroni
La Singolare Miscela di Bert:
Steve Tibbetts
/ di Riccardo Bertoncelli
The Desert Island Records:
Nick Saloman / The Bevis Frond
/ testo raccolto da Federico Guglielmi
Rubriche
:
Offside: una specie di editoriale / di Stefano I. Bianchi
Il piatto del giorno: cose buone dal mondo / di Federico Savini
Tin Pan Alley: proteste contro la realtà inesorabile / di Daniele Rosa
Contra-Banda: sguardi dalle retrovie dell'impero / di Luca Majer
Inner City Blues: blackness etc. / di Carlo Babando
Talktalk: news / di Federico Savini
Rock Shots: scatti immortali / di Roberto Calabrò
Play=Lista: 10 canzoni per…
Spot On
Recensioni
Runners / di Salvo Pinzone
Trax / di Christian Zingales
COLLATERAL

Memorie del sottosuolo
/ di Maurizio Bianchini
Letteratura per tempi difficili: la memorialistica alter-sovietica.

Tre piani, di Nanni Moretti
/ di Alberto Pezzotta
La realtà non abita più qui.
Cry Macho, di Clint Eastwood
/ di Roberto Curti
Cry Macho, di Clint Eastwood
Titane, di Julia Ducournau
/ di Roberto Curti
«Ceci n'est pas un steak»
Rubriche
:
I Libri del Mese
Graphix: fumetti, graphic novel, strisce
Paint It Black: noir, giallo, poliziesco / di Roberto Curti
Titoli di Coda / di Paolo Mereghetti
…e oltre 250 recensioni tra cui:
Al Karpenter
Anthony Pateras, Rohan Drape
Antonio Raia & Renato Fiorito
Arturo Stàlteri
Bawrut
Beach Fossils
Ben Chasny
Brendan Faegre
Carmen Consoli
Connan Mockasin
Curtis Harding
Danny George Wilson
Derma
Emma Ruth Rundle
Endless Boogie
Enrico Rava
Ensemble Marâghî
Esperanza Spalding
Full Of Hell
Gustaf
Hana Vu
Hard Feelings
Hofame
Idles
Injury Reserve
Iran
Jason Isbell And The 400 Unit
Jon Hopkins
Jü
Juçara Marçal
Kuunatic
Lee Ranaldo
Liminanas/ Garnier
Makaya McCraven
Marina Rosenfeld
Marissa Nadler
Mattin
Maurice Louca
Michele Braga e Gabriele Mainetti
Mira Calix
Monolord
Nexus
Nightmares On Wax
Old Time Relijun
Olivia Block
OSS
Penelope Isles
Penny Rimbaud & Youth
Regler
Roberto Fega
Soundwalk Collective w/ Charlotte Gainsbourg
Springtime
Teatro Satanico
The Black Dog
The Body & Big | Brave
The Felice Brothers
The Grease Traps
The Lathums
The Pop Group
The The
The War On Drugs
Tropico
[…]
Tag: Blow Up #282 [novembre 2021]
TUTTLE Edizioni - P.iva 01637420512 - iscrizione rea n. 127533 del 14 Gennaio 2000