Blow Up #284 [gennaio 2022]

Blow up #284 [gennaio 2022]
PREZZO: 10,00€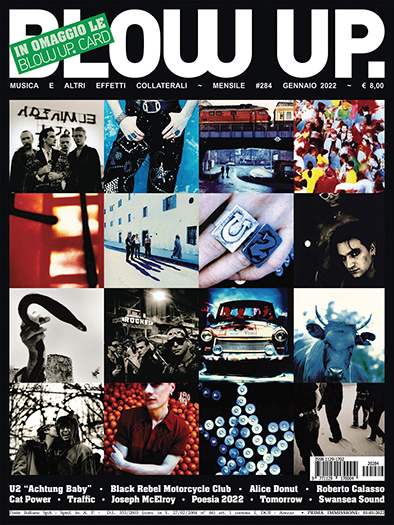 MUSICA

Cat Power
/ di Beppe Recchia
Chan Marshall e il talento di indossare le canzoni degli altri: intervista per l'uscita del nuovo album.
RPM: U2: "Achtung Baby"
/ di Gianluca Ongaro
L'analisi, i ricordi, le circostanze, la narrazione intorno a uno degli album più celebri e mati di una della band più celebri e amate della storia del rock.
Traffic
/ di Piercarlo Poggio
Più che i fan, a dimenticare i Traffic è stata l'industria discografica, colpevole di aver lasciato ingiallire le loro opere. Sotto lo sguardo assente del protagonista principale.
Black Rebel Motorcycle Club
/ di Emanuele Sacchi
Melodia, rumore e spleen. Ricetta antica, ingredienti nuovi.

Alice Donut
/ di Stefano I. Bianchi
Questo piccolo schifoso mondo. Vi ricordate degli Alice Donut? No? Male. Molto male. Malissimo.
Cabinet of Curiosities:
Pete Brown
/ di Vittore Baroni
La Singolare Miscela di Bert:
Tomorrow
/ di Riccardo Bertoncelli
Shooting Stars:
The Cravats + The Very Things
/ di Stefano I. Bianchi
The Desert Island Records:
Swansea Sound
/ testo raccolto da Beppe Recchia
Rubriche
:
Offside: una specie di editoriale / di Stefano I. Bianchi
Il piatto del giorno: cose buone dal mondo / di Federico Savini
Tin Pan Alley: proteste contro la realtà inesorabile / di Daniele Rosa
Contra-Banda: sguardi dalle retrovie dell'impero / di Luca Majer
Inner City Blues: blackness etc. / di Carlo Babando
Talktalk: news / di Federico Savini
Rock Shots: scatti immortali / di Roberto Calabrò
Spot On
Recensioni
Runners / di Salvo Pinzone
Trax / di Christian Zingales
COLLATERAL

Roberto Calasso
/ di Maurizio Bianchini
Un'eredità trascurata.
Poesia, ancora
/ di Fabio Donalisio
Giocare con le parole. Brevi considerazioni inattuali sulla poesia
Joseph McElroy
/ di Fabio Zucchella
La natura, spiata. Finalmente tradotto il capolavoro "Donne e uomini" di Joseph McElroy

"Vita da Carlo"
/ di Domenico Monetti
Stasera a casa di Verdone si (sor)ride malinconicamente

"È stata la mano di Dio"
, di Paolo Sorrentino / di Gabriele Gimmelli
Santi, miracoli ed esorcismi

"Get Back"
, di Trevor Jackson / di Emanuele Sacchi
Caro amico ti filmo, così mi distraggo un po'
"Strappare lungo i bordi"
, di Zerocalcare / di Domenico Monetti
L'animazione politicamente corretta
Rubriche
:
I Libri del Mese
Graphix: fumetti, graphic novel, strisce
Paint It Black: noir, giallo, poliziesco / di Roberto Curti
…e oltre 250 recensioni tra cui:
ALLEN RAVENSTINE
AMBULATORIO SEGRETO
ANAÏS DRAGO
BAD IMAGE
BAND OF HORSES
BEIRUT
BEN LAMAR GAY
BILLY BOGUS & FEDERICO BOLOGNA
BORIS
BRENT COBB
CAT POWER
CÉSAR LACERDA
CÉU
CHARLOTTE GREVE
CHRIS LIEBING
CHRISTOPHER CHAPLIN
CHRISTY MOORE
CLARA ENGEL
CM VON HAUSSWOLFF
COLDCUT & MIXMASTER MORRIS
COREY HARRIS
COURTNEY BARNETT
DANIEL BLUMBERG
DAVID LANCE CALLAHAN
DIE ANGEL
EAT STATIC
EBERHARD WEBER
EELS
ELENA SETIÉN
ELLIOTT SHARP
ELVIS COSTELLO & THE IMPOSTERS
ENGINE KID
FABIO ORSI
FÉLICIA ATKINSON & JEFRE CANTU-LEDESMA
FOLIE À DEUX
FRANCESCO DI CRISTOFARO
FRANCESCO PAOLO PALADINO
FRANCK VIGROUX
FULL MOON SCIENTISTS VS AMUSIANA
GABRIEL PROKOFIEV + OPENSOUNDORCHESTRA
GARCIA PEOPLES
GENOCIDE PACT
GHÉDALIA TAZARTÈS
GHOST HORSE
GIORGIENESS
GIORGIO POI
GIUSEPPE CORDARO
HALF STRING
HENRI DUTILLEUX
HERBERT POWELL
INAUD1BL3
INGAR ZACH & MICHELE RABBIA
INGEBRIGT HÅKER FLATEN
ISAIAH J. THOMPSON
JAMIE AND THE NUMBERS
JAMIRE WILLIAMS
JARVIS COCKER
JEFF PARKER
JESSE THE FACCIO
JESSICA MOSS
JJJJJEROME ELLIS
JOHN M. BENNETT
JOSEPHINE FOSTER
KA BAIRD & PEKKA AIRAKSINEN
KATE MOORE
KODAX STROPHES/MARTYN BATES
KYLE BRUCKMANN
LA MAISON
LARSEN
LAURA AGNUSDEI
LHAM
LOUISE BOCK & PG SIX
LUCINDA WILLIAMS
LUCIO BATTISTI
MAD DISC
MAISIE
MANDOL'IN PROGRESS
MARIO GABOLA
MARIO PIGOZZO FAVERO
MARRACASH
MASSIMO BERIZZI
MAURO SAMBO, ALBERTO COLLODEL
MIKE COOPER
MIKE PRIDE
MILES KANE
MONOSCOPES
NAALJOS LJOM
NEIL FRANCES
NELL
NITON
NO ROME
NOCI SAXOPHONE POOL
NOT A CITIZEN
NOUS, LARAAJI & ARJI OCEANANDA
NOVAFFAIR
OCEANI
OFFICER!
OLIVER EARNEST
PAOLO CONTE
PIERO UMILIANI
PINEGROVE
PIVIO & ALDO DE SCALZI
PUMAJAW
RATS
RED KITE
REPTALIENS
RONNIE MATHEWS
SALVATORE BONAFEDE
SCENIC
SHE SPREAD SORROW
SHUTDOWN 66
SIV DISA
STEREO TOTAL
STEVE RODEN
SYLVIE COURVOISIER & MARY HALVORSON
SYSTEM 01
THE CIRCULAR RUINS AND MYSTIFIED
THE DREAM SYNDICATE
THE KERNAL
THE KVB
THE MONSTERS
THE REMOTE VIEWERS
THE SMOGGERS
THE TANGRAM
THE WIRTSCHAFTSWUNDER
THEATRE OF HATE
TIMESHARD
TIMOTHÉE QUOST
TIN WOODMAN
TOMMY CASTRO
TONTO
TRONDHEIM JAZZ ORCHESTRA & OLE MORTEN VÅGAN
VIBRAVOID
VINCENT COURTOIS
VINCENT LÊ QUANG
WOODY SHAW
WOW
YARD ACT
Tag: Blow Up #284 [gennaio 2022]
TUTTLE Edizioni - P.iva 01637420512 - iscrizione rea n. 127533 del 14 Gennaio 2000