Blow Up #287 [aprile 2022]

Blow up #287 [aprile 2022]
PREZZO: 10,00€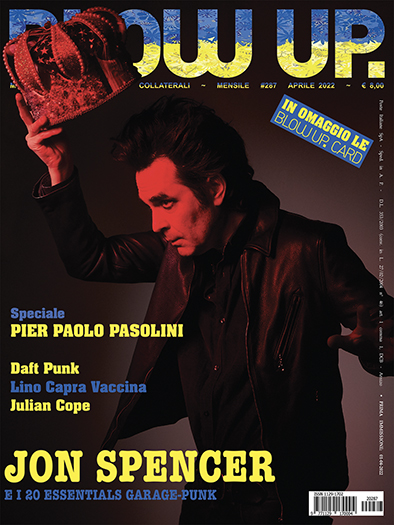 MUSICA

20 ESSENTIALS: Garage Punk 1990-1999
/ di Fabio Polvani con Roberto Calabrò e Federico Savini
In occasione dell'uscita dell'atteso nuovo album di Jon Spencer, un essential altrettanto richiesto: il garage-punk degli anni '90, ancora oggi uno dei sottogeneri più amati dell'underground. La panoramica dell'epoca e i 20 dischi essenziali scelti e recensiti estesamente.
Daft Punk
/ di Christian Zingales
A un anno dal loro scioglimento e in occasione del venticinquennale esce la ristampa di "Homework", il primo album della coppia francese. L'occasione giusta per fotografare il duo parigino al massimo della purezza, quando ancora caschi e multimedia erano di là da venire.
Lino 'Capra' Vaccina
/ di Gino Dal Soler
Quasi cinquant'anni fa Lino 'Capra' Vaccina esordiva come percussionista nel primo album degli Aktuala. Poi un'ispirata carriera solista tra suoni, silenzi ed attese fino al nuovo album "Sincretico Modale", alla perenne ricerca di una possibile quintessenza, tra arcaici armonici e scale modali.

Julian Cope
/ di Christian Zingales
Drugs + Julian = Droolian. Uscito nel 1990, l'UFO della discografia di Julian Cope torna oggi in una versione estesa con un libretto introduttivo che lo mette nella giusta prospettiva. Un disco psichico più che psichedelico.
Cabinet of Curiosities:
Ted Pearson
/ di Vittore Baroni
La Singolare Miscela di Bert:
Sammy Walker
/ di Riccardo Bertoncelli
Sonatine:
Morgan Harper-Jones • Cigno • Giulia Barba • Alabaster dePlume
Blow Up CARD:
Adi Newton • Mark Lanegan • Jon Spencer • Faust
Rubriche
:
Offside: una specie di editoriale / di Stefano I. Bianchi
Il piatto del giorno: cose buone dal mondo / di Federico Savini
Tin Pan Alley: proteste contro la realtà inesorabile / di Daniele Rosa
Contra-Banda: sguardi dalle retrovie dell'impero / di Luca Majer
Inner City Blues: blackness etc. / di Carlo Babando
Talktalk: news / di Federico Savini
Rock Shots: scatti immortali / di Roberto Calabrò
Recensioni
Runners / di Salvo Pinzone
Trax / di Christian Zingales
COLLATERAL

Pier Paolo Pasolini
/ di Maurizio Bianchini e Fabio Donalisio
Ugo Tognazzi
/ di Domenico Monetti
Cattivi pensieri: un ricordo di Ugo Tognazzi regista nel centenario dalla nascita

"Occhiali neri", di Dario Argento
/ di Alberto Pezzotta
Un film per ciechi.
"Licorice Pizza", di Paul Thomas Anderson
/ di Gabriele Gimmelli
Aria di liquirizia.
Chor Yuen
/ di Emanuele Sacchi
Un rigoroso irregolare: ritratto del regista recentemente scomparso.
Rubriche
:
I Libri del Mese
Graphix: fumetti, graphic novel, strisce
Paint It Black: noir, giallo, poliziesco / di Roberto Curti
Titoli di coda / di Paolo Mereghetti
…e oltre 250 recensioni tra cui:
50 FOOT WAVE
AA.VV. COD3 QR 011
AA.VV. MIKE TAYLOR REMEMBERED
AA.VV. UNDER THE BRIDGE
ACID MOTHER REYNOLS
ADAM, DUNN & HAAS
ALABASTER DEPLUME
ALBERT MAYR
ALDOUS HARDING
ALEK HIDELL
ANDY BELL
AOIFE O'DONOVAN
AVISHAI COHEN
BANDERAS
BASEMENT 3
BIG'N
BILLY MACKENZIE
BIOSPHERE
BLACK DOLDRUMS
BLANCK MASS
BRAINWALTZERA
BRANKO
BRETHREN
BRUNO DUPLANT & JULIEN HERAUD
BRYCE HACKFORD
BURKHARD BEINS, JOHN BUTCHER, WERNER DAFELDECKER
C'MON TIGRE
CALEXICO
CARSON MCHONE
CHET BAKER
COIL
CONFIDENCE MAN
CORTECCIA
COSMETIC
CUCINA SONORA
DÄLEK
DANIEL ROSSEN
DEATHCRASH
DER
DJ GODFATHER
DJ STINGRAY 313
EARTHEN SEA
ED SCHRADER'S MUSIC BEAT
EDDIE VEDDER
ELDRITCH PRIEST
ELECTRIC SHEEP COLLECTIVE
EMMA RUTH RUNDLE
ENNIO COLACI
ENSEMBLE 0
EUGENE CHADBOURNE & QUENTIN ROLLET
FATHER JOHN MISTY
FENNESZ
FONTAINES D.C.
FREDERIC RZEWSKI
GENERIC ANIMAL
GERRY BRIGHT AND THE STOKERS
GIULIA BARBA
GUERRILLA TOSS
HIGH ALPINE HUT NETWORK
HOWLESS
HUMANOIRA
HURRAY FOR THE RIFF RAFF
IAN NOE
INSTRUMENTS OF HAPPINESS
JEFF MILLS & THE ZANZA 22
JENNY HVAL
JOHN BUTCHER, THOMAS LEHN, GINO ROBAIR
JOHN MCGUIRE
JOHN TEJADA
JOHN ZORN
JOHNNY CASINO
JON PORRAS
JON SPENCER & THE HITMAKERS
JONE TAKAMÄKI/UMUT ÇA?LAR/FAHRETTIN AYKUT
JOZEF VAN WISSEM
JULMUD
KAE TEMPEST
KATE BOLLINGER
KENT STEEDMAN
KING GARBAGE
KIT DOWNES/PETTER ELDH/JAMES MADDREN
KOKADAME
KRISTINE LESCHPER
KURT VILE
LA NUOVA PIPPOLESE
LE MUFFE
LE PIETRE DEI GIGANTI
LIZ ALLBEE, JOHN BUTCHER, IGNAZ SCHICK, MARTA ZAPPAROLI
LOREN CONNORS & SERGIO SORRENTINO
LUCIUS
MADS EMIL NIELSEN / CHROMACOLOR
MAGA
MANNHEIMER SCHLAGWERK
MARC MATTER
MARK STEWART
MELT YOURSELF DOWN
MICHAEL BEHARIE
MOSTLY OTHER PEOPLE DO THE KILLING
MOTHERHOOD
MR. OIZO & PHRA
MT/SOLO
MY IDEA
NEL VENTRE DELL'ORSA
NIK COLK VOID
ODRZ66
OHYUNG
OREN AMBARCHI / JOHAN BERTHLING / ANDREAS WERLIIN
P.38 PUNK
PALE DAWN
PAVEMENT
PIOTR KUREK
PIPPO POLLINA
PNEUMATIC TUBES
PRIMER
PUNKT. VRT. PLASTIK
RICHARD PINHAS
ROBERT HAIGH
S. CAREY
SEABEAR
SHILPA RAY
SHIVA BURLESQUE
SHUTA HASUNUMA & U-ZHAAN
SHXCXCHCXSH
SIROM
SIRR TMO
SLAGR
SOPHIE AGNEL, JOHN BUTCHER
SOTE
SPRINGTIME
STELLA
STROMAE
SUKI WATERHOUSE
SUONNO D'AJERE
SUZANNE CIANI
TANGERINE DREAM
TEARS FOR FEARS
TEMPERS
TENEBRA
TERRY RILEY
THE ANTI GROUP
THE CATATONICS
THE CELIBATE RIFLES
THE HANGING STARS
THE IRRESISTIBLE FORCE VS RAMJAC CORPORATION
THE MILLS
THE OPHELIAS
THE PLASTIK BEATNIKS
THE WEATHER STATION
TOMAS FUJIWARA'S TRIPLE DOUBLE
TORO Y MOI
TRISTAN HONSINGER
UMBERTO PALAZZO
VELLUM - MAGDA MAYAS, TONY BUCK, JOHN BUTCHER
VINCENZO VASI
VIOLENT SCENES
VISCONTI
WARMDUSCHER
WET LEG
XAVIER MUSSAT & QUENTIN ROLLET
YESTERDAY WILL BE GREAT
Tag: Blow Up #287 [aprile 2022]
TUTTLE Edizioni - P.iva 01637420512 - iscrizione rea n. 127533 del 14 Gennaio 2000