Blow up #290/291 [luglio/agosto 2022]

Blow up #290/291 [luglio/agosto 2022]
PREZZO: 10,00€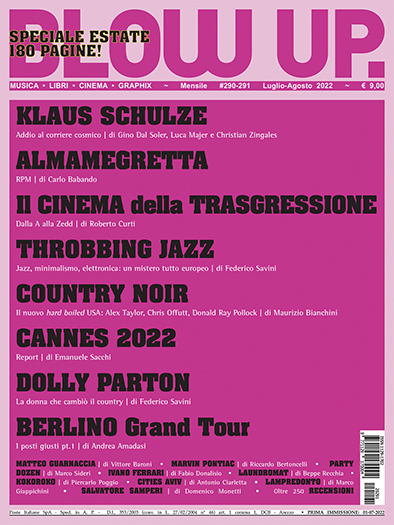 MUSICA

Klaus Schulze
/ di Gino Dal Soler, Luca Majer e Christian Zingales
Un ricordo a più mani del grande musicista recentemente scomparso, tra i protagonisti del rock cosmico tedesco degli anni '70 e oltre.
RPM: Almamegretta "Sanacore"
/ di Carlo Babando
Il capolavoro della band partenopea appena tornata con un nuovo album nei ricordi e nell'analisi critica di Carlo Babando

Throbbing Jazz
/ di Federico Savini
Sono tutti europei, dicono di suonare jazz ma la loro musica rimanda alle reiterazioni ipnotiche del minimalismo e alle fredde scansioni ritmiche dell'elettronica, senza trascurare forme di primitivismo ruvide e meccaniche e persino un'idea stramba e snob della musica pop. Un'arte che si pone tra la dimensione artificiale e quella animale, bypassando il più possibile l'umano.
Trojan Story
/ di Carlo Babando
A cinquant'anni dalla pubblicazione dei tre lp di "The Trojan Story", è di recente uscito un box che celebra la storia dell'etichetta. Proviamo a ripercorrerla.
Dolly Parton
/ di Federico Savini
Esce in Italia il saggio di Sarah Smarsh su Dolly Parton, finalmente consacrata come icona femminista universale. Prima era "solo" la donna che ha cambiato l'immaginario, il suono e il mondo morale della country-music. Ma riconoscerne i talenti è stato per decenni un tabù. Non solo degli uomini.
Grand Tour: Berlino pt.1
/ di Andrea Amadasi
Cabinet of Curiosities:
Matteo Guarnaccia
/ di Vittore Baroni
La Singolare Miscela di Bert:
Marvin Pontiac
/ di Riccardo Bertoncelli
Sonatine:
Laundromat • Kokoroko • Lampredonto • Cities Aviv • Party Dozen
Rubriche
:
Talktalk: news / di Federico Savini
Il piatto del giorno: cose buone dal mondo / di Federico Savini
Tin Pan Alley: proteste contro la realtà inesorabile / di Daniele Rosa
Contra-Banda: sguardi dalle retrovie dell'impero / di Luca Majer
Inner City Blues: blackness etc. / di Carlo Babando
Rock Shots: scatti immortali / di Roberto Calabrò
Recensioni
Trax / di Christian Zingales
COLLATERAL

Il Cinema della Trasgressione
/ di Roberto Curti
«Basically, in one sentence, give us the definition of the Cinema of Transgression».
«Fuck You».
(Intervista a Nick Zedd, 1985)
[con un'intervista inedita a Nick Zedd del 2012 / di Gabriele Marchina]
Country Noir
/ di Maurizio Bianchini
Elegia e De profundis dell'America dei padri
Ivano Ferrari
/ di Fabio Donalisio
Niente seghe siamo spettri
Salvatore Samperi
/ di Domenico Monetti
Peccati veniali

Cannes 2022
/ di Emanuele Sacchi
Nostalgia canaglia

"Nostalgia", di Mario Martone
/ di Gabriele Gimmelli
La scacchiera e il teorema
Rubriche
:
Paint It Black: noir, giallo, poliziesco / di Roberto Curti
I Libri del Mese
Graphix: fumetti, graphic novel, strisce
Blow Out: contro il logorio della vita moderna / di Roberto Curti
…e oltre 250 recensioni tra cui:
AA.VV. CIAO ITALIA - GENERAZIONI UNDERGROUND VOLUME 2
AA.VV. LA TORRE IBIZA - VOLUMEN CUATRO
AA.VV. SINTOMAS DE TECHNO
ABBEY LINCOLN
ALAIDE COSTA
ALESSANDRO PRESTI
ALESSANDRO TEDESCO
ALEXANDER F. GOEDICKE
AMY WINEHOUSE
ANGELI
ANTELOPER
ARCHIVIO FUTURO
AUTOMATISME & STEFAN PAULUS
BAD BREEDING
BADHABIT
BALDRIAN QUARTETT
BEABADOOBEE
BEN HARPER
BILLY WOODS
BKO
BLACK MIDI
BRUNO MADERNA
BRUT OSS
CALM
CATHERINE LAMB
CHARLES MINGUS
CHERI KNIGHT
CHIARA PELLONI
CITIES AVIV
COLA
CONGOTRONICS INTERNATIONAL
CRISIS
CYRK
DATURA 4
DAVID BENNET & VILHELM BROMANDER
DAVID VIRELLES
DIAFRAMMA
DOE ST
DREAM WEAPON RITUAL
ELIAS STEMESEDER
ELTON JOHN
ENRICO PIERANUNZI QUINTET
FABIO ORSI & ALESSANDRA GUTTAGLIERE
FÉLICIA ATKINSON
FIXATE
FLIN VAN HEMMEN & JOZEF DUMOULIN TOO TALL TO SING
FRANCESCO D'AURIA
FRANCISCO MEIRINO, JÉRÔME NOETINGER, ANTOINE CHESSEX
FRANCO DEGRASSI
GARRETT KATO
GNAWA MUSIC OF MARRAKESH
GNOD
GOODBYE, KINGS
GRANT-LEE PHILLIPS
GUO GAN "SWORDMEN" TRIO
GWENNO
HERCULES & LOVE AFFAIR
HOOVERIII
HOUSE OF LOVE
I SPEAK MACHINE
IAN TRYP'S MIDI LIFE CRISIS E.P.
ICONOCLAST
IL MURO DEL CANTO
IL PEGGIO È PASSATO
ILITCH
INFLUENZA PRODS.
INTERPOL
ISAIAH CECCARELLI
ISAN
JAYWOOD
JIMY SOHNS & JON POVEY WITH TECHNICOLOUR DREAM
JOHAN BERTHLING
JOHN SCOFIELD
JOHN YAO'S TRICERATOPS
JOSÉ MEDELES
JOYCUT
JOYFULTALK
JUST MUSTARD
KAI WHISTON
KAMIKAZE PALM TREE
KATY J PEARSON
KEITH FULLERTON WHITMAN
KING DUDE & DER BLUTHARSCH AND THE INFINITE CHURCH OF THE LEADING HAND
KIWI JR.
KODE 9
KOKOROKO
KRANEMANN + PHARMAKUSTIK
KUI DONG
L.U.C.A.
LA GRAZIA OBLIQUA
LARS FROM MARS / ANDERS HOLST
LAUNDROMAT CHICKS
LAURA VEIRS
LEDA
LIGHTNIN' HOPKINS
LINUS + ØKLAND / VAN HEERTUM / ZACH
LISA BEAT E I BUGIARDI
LUCA SIGURTÀ
MARINA HERLOP
MARK BARROTT
MÁRTON ILLÉS
MARY HALVORSON
MASSIMO DONÀ
MASTER MUSICIANS OF JAJOUKA LED BY BACHIR ATTAR
MATTER
MAURO SAMBO
MAVIS STAPLES & LEVON HELM
MAX FUSCHETTO
MAX ROACH
MELODY'S ECHO CHAMBER
MICHAEL HEAD AND THE RED ELASTIC BAND
MICO ARGIRÒ
MILES OKAZAKI
MILITIA
MOOR MOTHER
MOTORPSYCHO
MR. FINGERS
MUSH
NICK ZINNER
NICOLA MANZAN
NIGHTINGALES
NINA NASTASIA
NOSTROMO
OLIVER CHAPLIN
ORVILLE PECK
OTIS SPANN
PAOLO ANGELI
PARTY DOZEN
PHTALO
PRIMO ZANASI
QONICHO AH!
QUELLE CHRIS
RICCARDO RUGGERI
RIFRAZIONE
ROLAND SCHAPPERT
ROUGH ENOUGH
RUSSIAN CIRCLES
RUSTY
SANTAMUERTE / CLAUDIO PALUMBO
SATOYAMA
SAVAGE REPUBLIC
SHINTARO SAKAMOTO
SOFIE BIRCH
SPLIT SYSTEM
STEFAN ÖSTERJÖ, KATT HERNANDEZ
STEPHEN MALLINDER
SUN'S SIGNATURE
SUPERORGANISM
TALLIES
TERRY JENNINGS
TERRY RILEY, JOHN TILBURY
THE CAT'S MIAOW
THE CLEOPATRAS
THE FEAR RATIO
THE INTERRUPTERS
THE RICHMOND SLUTS
THE SUBMISSIVES
THEE SACRED SOULS
TIGRAN HAMASYAN
TY SEGALL
UA
UFOMAMMUT
VACANT GARDENS
VIBRAVOID
WALT DISCO
WEIGHT AND TREBLE
WHITEMARY
WILCO
WORKING MEN'S CLUB
ZUSAMMEN CLARK
Tag: Blow up #290/291 [luglio/agosto 2022]
TUTTLE Edizioni - P.iva 01637420512 - iscrizione rea n. 127533 del 14 Gennaio 2000