Blow Up #294 [novembre 2022]

Blow up #294 [novembre 2022]
PREZZO: 10,00€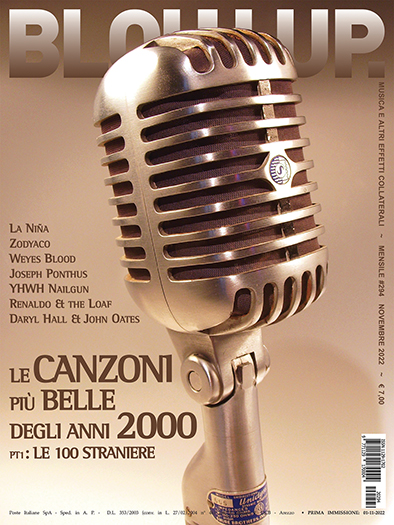 MUSICA
SPECIALE: Le 100 canzoni più belle degli anni Duemila – pt.1: le straniere
/ di Andrea Amadasi, Carlo Babando, Massimiliano Barulli, Stefano I. Bianchi, Roberto Calabrò, Dionisio Capuano, Antonio Ciarletta, Guido Gambacorta, Marco Giappichini, Stefano Lecchini, Pierluigi Lucadei, Beppe Recchia, Daniele Rosa, Emanuele Sacchi, Sabrina Santoro, Federico Savini e Marco Sideri
Questo mese riprendiamo il nostro vecchio
serial
delle "100 migliori canzoni" per presentarvi le più belle canzoni straniere degli anni Duemila: da non perdere!
Zodyaco / Alle pendici del vulcano
/ di Carlo Babando
Una passeggiata con Pellegrino Snichelotto per indagare passato e futuro di Napoli attraverso il suo Zodyaco.
Daryl Hall & John Oates
/ di Eddy Cilìa
Lo ha certificato "Billboard" nel 2012: sono il duo che ha venduto più dischi nella storia. La faccenda in realtà è controversa, giacché secondo altre fonti il primato spetterebbe a Simon & Garfunkel, cento milioni a sessanta. Senza contare che Daryl Hall e John Oates detestano venire considerati un duo. E, soprattutto, odiano che li si chiami Hall & Oates.
Cabinet of Curiosities:
Renaldo & The Loaf
/ di Vittore Baroni
La Singolare Miscela di Bert:
Nicky Hopkins
/ di Riccardo Bertoncelli
Sonatine:
YHWH Nailgun • Nicholas Remondino • La Niña • Arny Margret • Italia 90
Rubriche
:
Talktalk: news / di Federico Savini
Il piatto del giorno: cose buone dal mondo / di Federico Savini
Tin Pan Alley: proteste contro la realtà inesorabile / di Daniele Rosa
Contra-Banda: sguardi dalle retrovie dell'impero / di Luca Majer
Inner City Blues: blackness etc. / di Carlo Babando
Rock Shots: scatti immortali / di Roberto Calabrò
Recensioni
Trax / di Christian Zingales
COLLATERAL

Io scelgo il lavoro
/ di Fabio Donalisio
Joseph Ponthus e la parola à la ligne

Caccia alle streghe
/ di Maurizio Bianchini
Il Medioevo del Novecento
Siccità, di Paolo Virzì
/ di Alberto Pezzotta
L'Apocalisse non si farà
I cento anni di Ciccio Ingrassia
/ di Domenico Monetti
Il volto triste della risata

Everything Everywhere All At Once, dei Daniels
/ di Emanuele Sacchi
L'inerte nozionismo del cinema come contenuto

Blonde, di Andrew Dominik
/ di Gabriele Gimmelli
Marilyn nel Paese degli Orrori
Rubriche
:
Paint It Black: noir, giallo, poliziesco / di Roberto Curti
I Libri del Mese
Graphix: fumetti, graphic novel, strisce
Blow Out: contro il logorio della vita moderna / di Roberto Curti
…e oltre 250 recensioni tra cui:
A SPIRALE, MAKOTO OSHIRO, TAKAHIRO KAWAGUCHI
AA.VV. CLAP. AN ANATOMY OF APPLAUSE
AA.VV. VISIONS OF DARKNESS IN IRANIAN CONTEMPORARY MUSIC VOLUME II
ACCHIAPPASHPIRT
ADA ODA
ADAM H.
AL-QASAR
ALESSANDRO BARBANERA
ALEX ZETHSON
AMIR YAGHMAI
ANDY MOOR, TOMMASO ROLANDO
ANTIHERO
ARCHERS OF LOAF
ARCTIC MONKEYS
ARIEL ZETINA
ARTURO STÀLTERI
ATARAXIA
BI NOSTALGIA & ALBERTO FIORI CARONES
BILLY WOODS
BOOKER ERVIN
BOOKER LITTLE
BORDA
BRIGHT EYES
BRUCE LICHER
CALEB LANDRY JONES
CAN
CAROLINE SHAW & ATTACCA QUARTET
CECIL TAYLOR
CHARLES STEPNEY
CHEVAL DE FRISE
CHRIS CORSANO, RYLEY WALKER, ANDREW SCOTT YOUNG
CHRISTINA VANTZOU
CHRISTINE ABDELNOUR & ANDY MOOR
CITRON CITRON
CITY OF CATERPILLAR
CLAIRVOYANCE
COH MEETS ABUL MOGARD
COLIN STETSON
CONFUSIONAL QUARTET
CRAVEN FAULTS
CREATION REBEL
CYPRIEN BUSOLINI & BERTRAND GAUGUET
DANIEL AVERY
DANIELE LEDDA
DEAD CAT IN A BAG
DEATH'S DYNAMIC SHROUD
DEGO
DICKIE LANDRY
DICKIE LANDRY & LAWRENCE WEINER
DOMI & JD BECK
DON ANTONIO & THE GRACES
DR. JOHN
DREAMCASTMOE
DRIEU
DRUGDEALER
DTHED
DUASSEMICOLCHEIASINVERTIDAS
DUNGEN
EKKEHARD EHLERS
EKKOFLOK
EMMA NOLDE
ENRICO RAVA/FRED HERSCH
ERNEST HOOD
ETCETERAL
EUGENIA POST MERIDIEM
EZY MINUS
FABIO ORSI
FAWDA
FEDERICO NUTI
GABI MORENO
GAETANO NICOSIA
GENESIS P-ORRIDGE & DAVE BALL
GFFR
GIANLUCA PETRELLA/COSMIC RENAISSANCE
GIRLPUPPY
GOAT
GOLD PANDA
GUILLAUME LOIZILLON
GUTS
GYÖRGY KURTÁG
HONEY HARPER
HORSE LORDS
HOUSE OF LOVE
IAN WILLIAM CRAIG
INGAR ZACH
IZZY AND THE BLACK TREES
IZZY ORAM BROWN
JACK MCDUFF
JAMES BRANDON LEWIS QUARTET
JAN MARTIN SMØRDAL & ØYSTEIN WYLLER ODDEN
JOHNNY DALBASSO
JOYERIA
JULIAN LAGE
JULIEN CHANG
KABUKI DREAM
KATHARINA WEBER
KERRI CHANDLER
LAURA ALLAN
LILA BAZOOKA
LILI REFRAIN
LITTLE PIECES OF MARMELADE
LITURGY
LORAINE JAMES
LOTUS EATER
LOWERTOWN
LVTVM
MAD MEN BLUES
MADISON CUNNINGHAM
MAGNUS GRANBERG
MANUEL AGNELLI
MARC BARON & JEAN-PHILIPPE GROSS
MARCEL DETTMAN
MARLENE KUNTZ
MASSARO / VITOLO / MIELE
MATTIE BARBIER
MAUSKOVIC DANCE BAND
MELISSA CARPER
MERIDIAN BROTHERS
MÉRYLL AMPE
MICHAEL BEGG
MICHAEL FRANCIS DUCH
MODERN STARS
MOLECOLA
MOLLY LEWIS
MOUNT KIMBIE
MR. V
NEGAZIONE
NENEH CHERRY
NOSAJ THING
OFFICINA F.LLI SERAVALLE
OJKOS & ANDREAS ROTEVATN
ONO
OORT_SMOG
ORBEL
OSVALDO SCHWARTZ
PAUL HEATON & JACQUI ABBOTT
PEARLS BEFORE SWINE
PHOENIX
PIERFRANCESCO MUCARI/GIANNI MIMMO
PIOTR KUREK
PLAID
PLEASURE
POLE
PYE CORNER AUDIO
QUEENS OF THE STONE AGE
RADIO KSG
RICHARD DAWSON
ROMARE
RÖYKSOPP
SASHA
SAVAGE REPUBLIC
SAVANA FUNK
SCOUT GILLETT
SEB MARTEL
SERGE SANTIAGO
SIDERA SAXOPHONE QUARTET
SIMON BALESTRAZZI
SLACKK
SLEEP PARTY PEOPLE
SOLAR FIELDS
SONIC ALLIANCES
SPECIAL INTEREST
SPOON VS. ON-U SOUND
STATUTO
STEVE BATES
STR4TA
STRATA-GEMMA
SUBMERSION
SUDAN ARCHIVES
SUMERLANDS
SURYA BOTOFASINA
SWEET LIZZY PROJECT
SYLVANO BUSSOTTI
SYSTEM HARDWARE ABNORMAL
TALISMAN
TELL NO LIES
THE ADVISORY CIRCLE
THE BRADIPOS IV
THE COMET IS COMING
THE DEAD DAISIES
THE FALL
THE GLASS KEY
THE JOHN-PAULS
THE LORD & PETRA HADEN
THE SOFT MOON
THE TURCOS MEET THE LITTLE DEVILS
TOM SKINNER
TULIPA RUIZ
ULAAN PASSERINE
UN CADDIE RENVERSÉ DANS L'HERBE
VAAL
VINYL WILLIAMS
VIRGIN PRUNES
WAAJEED
WEYES BLOOD
YANNA MOMINA
ZELDA MAB
Tag: Blow Up #294 [novembre 2022]
TUTTLE Edizioni - P.iva 01637420512 - iscrizione rea n. 127533 del 14 Gennaio 2000