Blow up #298 [marzo 2023]

Blow up #298 [marzo 2023]
PREZZO: 10,00€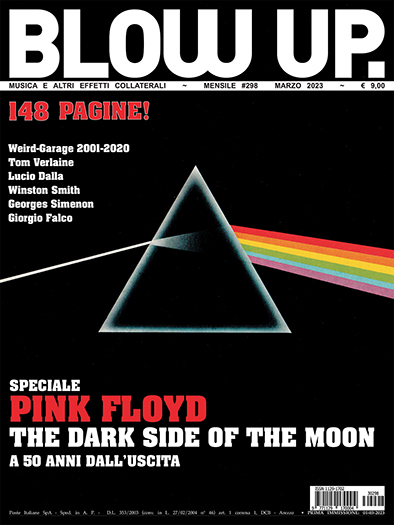 MUSICA

SPECIALE Pink Floyd: "The Dark Side Of The Moon"
• Una luna senza eclissi / di Federico Guglielmi
• The Cambridge Mafia / di Massimiliano Busti
• Elogio della follia / di Emanuele Sacchi
AMARCORD: Antonio Ciarletta, Christian Zingales, Daniele Rosa, Diego Palazzo, Eddy Cilìa, Federico Guglielmi, Giovanni Vacca, Giuseppe Aiello, Luca Majer, Marco Giappichini, Marco Sideri, Nazim Comunale, Piercarlo Poggio, Pierluigi Lucadei, Roberto Calabrò, Stefano I. Bianchi, Stefano Lecchini
• The dark side of The Dark Side / di Riccardo Bertoncelli
RPM: Lucio Dalla "Come è profondo il mare"
/ di Girolamo Dal Maso
Uno dei dischi più amati e celebrati di Lucio Dalla, che il 4 marzo avrebbe festeggiato 80 anni nel ricordo e nell'analisi di Girolamo Dal Maso
Tom Verlaine
/ di Stefano I. Bianchi
E se n'è andato anche Tom. Chitarrista eccezionale, songwriter abile e curioso, cantante originalissimo. Un musicista troppo spesso e troppo ingiustamente considerato solo come "l'ex leader dei Television". Ne ripercorriamo la vicenda solistica, che è prodiga di tesori non meno di quanti ne troviamo in quella della band che lo rese immortale.
20 essentials: Weird Garage USA 2001-2020
/ di Ruben Gavilli
Esordisce in questo numero un nuovo collaboratore: Ruben Gavilli, che ci racconta il Weird-Garage americano degli anni Duemila in 20 dischi essenziali da scoprire e riscoprire
Cabinet of Curiosities:
Winston Smith
/ di Vittore Baroni
La Singolare Miscela di Bert:
The Music Improvisation Company
/ di Riccardo Bertoncelli
Sonatine:
Nico Paulo • Master Peace • Oghlan Bakhshi
Rubriche
:
Talktalk: news / di Federico Savini
Il piatto del giorno: cose buone dal mondo / di Federico Savini
Tin Pan Alley: proteste contro la realtà inesorabile / di Daniele Rosa
Contra-Banda: sguardi dalle retrovie dell'impero / di Luca Majer
Inner City Blues: blackness etc. / di Carlo Babando
Recensioni
Trax / di Christian Zingales
COLLATERAL

Georges Simenon
/ di Matteo Moca
Riparatore di destini
Giorgio Falco
/ di Fabio Donalisio
La fame e il territorio
Luciano Bianciardi
/ di Maurizio Bianchini
Per istinto e indole
Decision To Leave, di Park Chan-wook
/ di Alberto Pezzotta
Manierismo e macerie
Tár, di Todd Field
/ di Gabriele Gimmelli
La signora sul podio
Copenhagen Cowboy, di Nicolas Winding Refn
/ di Domenico Monetti
Neon noir griffato
Magic Mike - The Last Dance, di Steven Soderbergh
/ di Emanuele Sacchi
Show Me the Money
Rubriche
:
Paint It Black: noir, giallo, poliziesco / di Roberto Curti
I Libri del Mese
Graphix: fumetti, graphic novel, strisce
…E OLTRE 200 RECENSIONI tra cui:
-(16)-
A PRODUCE
AA.VV. SOLSTICE- A TRIBUTE TO STEFFEN BASHO JUNGHANS
AA.VV. TAPE EXCAVATION
AA.VV. WHERE WE COME FROM (VOL. 1)
AARON CASSIDY
AFRICAN IMPERIAL WIZARD
ALAN VEGA
ALASDAIR ROBERTS
ALEX WARD ITEM 4
ALEXANDER ROBOTNICK
ALTIN GÜN
AMEN SEAT
AMP
ANAÏS
ANDREA BELFI
ANTHONY PATERAS
ARE ANDREA RUGGERI ENSEMBLE
ART ENSEMBLE OF CHICAGO
ASEP NAYAK
ATTILA CSIHAR
AUTOSTOPPISTI DEL MAGICO SENTIERO
AUTOSTOPPISTI DEL MAGICO SENTIERO
BABYBABY_EXPLORES
BABYMETAL
BAD WEED
BARDO POND
BÄRLIN
BARRE PHILLIPS/GYÖRGY KURTÁG JR.
BILLY NOMATES
BL'AST
BLAINE L. REININGER
BONDO
BURN THE OCEAN
BURT BACHARACH AND ELVIS COSTELLO
CARLO ALESSANDRO LANDINI
CHAD FOWLER/IVO PERELMAN/ZOH AMBA/MATTHEW SHIPP/WILLIAM PARKER/STEVE HIRSH
CLEO T.
CONSTANT SMILES
CRIMEBOYS
CRISTIAN MADDALENA, FRANCESCO MASSARO, NAZIM COMUNALE
DANIEL JOHNSTON
DANIELE CORDISCO/RON CARTER
DEATH AND VANILLA
DEATH PILL
ELIANE RADIGUE
EMILIANA TORRINI & THE COLORIST ORCHESTRA
ENZO ROCCO
ERIC ANDERSEN
EVGUENI GALPERINE
FAKE NAMES
FANTASTIC NEGRITO
FEVER RAY
FRANCO RICCIARDI
FRINGE SOCIETY
FRODE GJERSTAD/KALLE MOBERG /PAAL NILSSEN-LOVE
GENESIS
GERALD CLEAVER, BRANDON LOPEZ, HPRIZM
GIANFRANCO GRILLI
GIANT SWAN
GINA BIRCH
GIULIANO DOTTORI
GRADE 2
H. HAWKLINE
HARRY ROMERO
HELLRIPPER
HOTEL LUX
HYPERWÜLFF
IKONIKA X 45DIBOSS
INAUD1BL3
ITALIA 90
JAKOB BRO/JOE LOVANO
JEFF MILLS
KALI MALONE FEAT. STEPHEN O'MALLEY AND LUCY RAILTON
KATE NV
KAUCIC / SIMON
KETY FUSCO
LANGENDORF UNITED
LANKUM
LIA KOHL
LITURGY
LIVIO BARTOLO VARIABLE UNIT
LONNIE HOLLEY
LUCA COLLIVASONE
LUCINDA CHUA
LULL
M(H)AOL
M83
MA SPAVENTI
MAC DEMARCO
MAITA
MAN OR ASTRO-MAN?
MARCO LUPARIA
MARK JENKIN
MASSIMO PUPILLO, MALCOLM MCDOWELL, GABRIELE TINTI
MATT ELLIOTT
MAYSSA JALLAD
METTE HENRIETTE
NEUTRAL MILK HOTEL
NEW MUSIK
NEXUS
NICHOLAS MERZ
NICKEL CREEK
NOW MORE THAN EVER
NUCLEAR SONIC FUSION
NYX NOTT
OBITUARY
OGHLAN BAKHSHI
OLIVER COATES
OLOLOLOP, ARAKAWA ATSUSHI & ZEA
OODAL
PIERO BITTOLO BON
PITA-FRIEDL
PJ HARVEY
POIL UEDA
PUCE MOMENT
QUATUOR BOZZINI
R. RING
RACHAEL & VILRAY
RAOUL SINIER
RICHARD SKELTON
ROB MAZUREK EXPLODING STAR ORCHESTRA
ROBOX
ROGÊ
ROMAIN PERROT & QUENTIN ROLLET
RUMORE AUSTERO
RYAN CARTER
RYUICHI SAKAMOTO
SAMO KUTIN, PASCAL BATTUS
SATOKO FUJII & OTOMO YOSHIHIDE
SERGIO ARMAROLI
SLEAFORD MODS
SLUGGORE
SOKUSHINBUTSU PROJECT
SPETTRO FAMILY
SURGEON
SUSANA SANTOS SILVA
TEATRO SATANICO
TEDDY DANIELS
TEX PERKINS AND THE FAT RUBBER BAND
THE BAD ENDS
THE BARRACUDAS
THE MAKERS
THE MURDER CAPITAL
THE NATURAL LINES
THE REDS, PINKS AND PURPLES
THE ROLLING STONES
THE TOXICS
TRAX
TUJIKO NORIKO
TY SEGALL & EMMETT KELLY
U/NU
ULRIKA SPACEK
UNKNOWN MORTAL ORCHESTRA
VALERIO DANIELE
VLADISLAV DELAY
VULFPECK
WANDERWELLE
XIU XIU
YVES TUMOR
ZE IN THE CLOUDS
ZEROGROOVE
ZOH AMBA
ZOH AMBA/FRANCISCO MELA
Tag: Blow up #298 [marzo 2023]
TUTTLE Edizioni - P.iva 01637420512 - iscrizione rea n. 127533 del 14 Gennaio 2000