Blow Up #299 [aprile 2023]

Blow up #299 [aprile 2023]
PREZZO: 10,00€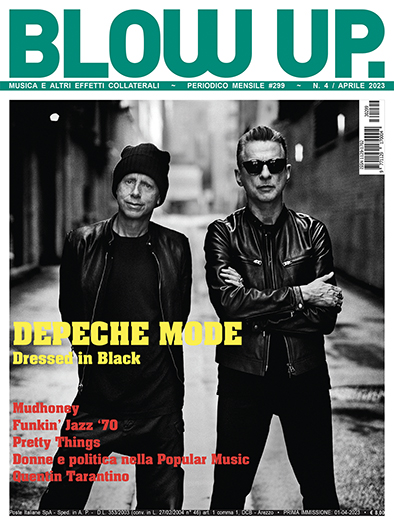 MUSICA


Depeche Mode
/ di Christian Zingales
Dopo la morte di Andrew Fletcher i Depeche Mode sono un duo, un faccia a faccia tra Dave Gahan e Martin Gore, da sempre pilastri della band. Ma per "Memento Mori", il loro quindicesimo album, disco sulla mortalità già programmato prima della scomparsa di Fletcher, arrivano in una eccitante "formazione aperta" con i contributi determinanti di Richard Butler degli Psychedelic Furs, James Ford, Marta Salogni, Davide Rossi.

"Donne e politica nella popular music"
/ di Susanna Buffa
Women on the Picket Line: una conversazione con Alessandro Portelli
Mudhoney
/ di Federico Guglielmi
Nell'aprile del 1988 i Mudhoney registrarono Touch Me I'm Sick, il loro devastante singolo di debutto. Sono dunque trentacinque anni che la band di Seattle infiamma il mondo rock, spiccando per coerenza e ispirazione. Il nuovo album "Plastic Eternity", nei negozi proprio in questi giorni, ne ribadisce l'assoluta fedeltà alla linea. La nostra intervista.
Pretty Things
/ di Roberto Calabrò
Sessant'anni fa si formavano i Pretty Things, uno dei più grandi e sfortunati gruppi inglesi, capaci di attraversare un'epoca e di anticipare i tempi. Ripercorriamo la "golden age" della formazione di Phil May e Dick Taylor: dal blues degli esordi al pop orchestrale fino al capolavoro psichedelico "S.F. Sorrow".

Funkin' Jazz '70
/ di Piercarlo Poggio
Tentativo di playlist per illustrare le liaisons dangereuses tra Funk e Jazz negli anni Settanta.
Cabinet of Curiosities:
Soviet Sex
/ di Vittore Baroni
La Singolare Miscela di Bert:
Jesse Ed Davis
/ di Riccardo Bertoncelli
Sonatine:
Su-a Lee • Wormboys • Marlene Ribeiro • Persian Pelican
Rubriche
:
Talktalk: news / di Federico Savini
Il piatto del giorno: cose buone dal mondo / di Federico Savini
Tin Pan Alley: proteste contro la realtà inesorabile / di Daniele Rosa
Contra-Banda: sguardi dalle retrovie dell'impero / di Luca Majer
Inner City Blues: blackness etc. / di Carlo Babando
Recensioni
Trax / di Christian Zingales
COLLATERAL


John Crowley
/ di Fabio Zucchella
«Tu credi nelle fate?»
Don DeLillo
/ di Maurizio Bianchini
L'età dell'inconsistenza
Quentin Tarantino
/ di Roberto Curti
Alla ricerca del cinema perduto
Tutta la bellezza e il dolore – All the Beauty and the Bloodshed
, di Laura Poitras / di Alberto Pezzotta
La vittoria del museo
Empire of Light
, di Sam Mendes / di Roberto Curti
Stephen e Hilary vanno a letto
Aftersun
, di Charlotte Wells / di Domenico Monetti
In viaggio con papà
Rubriche
:
Paint It Black: noir, giallo, poliziesco / di Roberto Curti
I Libri del Mese
Graphix: fumetti, graphic novel, strisce
…e oltre 200 recensioni tra cui:
A CERTAIN RATIO
AA.VV. URLA DAL GRANDUCATO VOLUME 3
ADAM GREEN
AI!
ALBINO
ALESSIA OBINO
ALL HANDS_MAKE LIGHT
ANA KRAVANJA & ELISABETH HARNIK
ANGEL BAT DAWID
ARABIA SAUDADE
B.E.F.
BABY ROSE
BAR TRITOLO
BIGA
BLACK EYES
BLOOD QUARTET
BMX BANDITS
BRÖTZMANN / LEIGH / LONBERG-HOLM
BRUXA MARIA
CANEDICODA / ROBERTO GRIECO
CAROLINE SHAW
CIGNO
CINDY
CLAUDIO COCCOLUTO
CLAUDIO ROCCHETTI
COLAPESCE, DIMARTINO
CULTURA TRES
DAUGHTER
DAVE OKUMU & THE 7 GENERATIONS
DEATH VALLEY GIRLS
DEERHOOF
DEIAN
DENTE
DEPECHE MODE
DESIRE MAREA
DIE WILDE JAGD
DISH-IS-NEIN
DOMMENGANG
DOROTHY MOSKOWITZ & THE UNITED STATES OF ALCHEMY
DOUBLE SYD
DUTCH UNCLES
EDLEY ODOWD
EL MICHELS AFFAIR & BLACK THOUGHT
ELODIE
ELTON DEAN - STEVE MILLER - PIP PYLE
EMIDIO CLEMENTI - CORRADO NUCCINI
ENSEMBLE DEDALUS / RYOKO AKAMA
FABIO ORSI
FEIST
FENNE LILY
FIRE! ORCHESTRA
FONDERIA
FVZZ POPVLI
GAUBE
GEINS'T NAÏT + SCANNER + L. PETITGAND
GENJI SAWAI
GIORGIO COLOMBO TACCANI
GORILLAZ
GRIMOON
HARALD GROSSKOPF
HEADLESS SOCIETY
HI-FI SEAN & DAVID MCALMONT
HIS ELECTRO BLUE VOICE
HUGHES MIMMO SCHLECHTA VOLQUARTZ
INGRID LAUBROCK
JACQUELINE HUMBERT & DAVID ROSENBOOM
JAH WOBBLE
JAN JELINEK
JAWNY
JIM BLACK & THE SHRIMPS
JOE MEEK AND THE BLUE MEN
JOËLLE LÉANDRE
JOHN CAGE
JONATHAN BREE
JOSEPHINE FOSTER
JULIA STRZALEK & CORNELIA NILSSON
KASPER AGNAS
KEITH & JULIE TIPPETT - COUPLE IN SPIRIT
LADY UBUNTU
LAPA DULA
LONG GONE
LUCA ZENNARO
MADAME
MARLENE RIBEIRO
MC YALLAH
MF TOMLISON
MIHARU OGURA
MING TSAO
MIOCLONO
MIRCO DE STEFANI
MODEL/ACTRIZ
MUDHONEY
NICO PAULO
NICOLA GUAZZALOCA / GIANNI MIMMO
OCTAVE ONE
OLIVER
ONE HORSE BAND
ORBITAL
ORCHESTRA OF THE UPPER ATMOSPHERE
PANKOW-
PERSIAN PELICAN
PIGS PIGS PIGS PIGS PIGS PIGS PIGS
PILE
POISON RUÏN
POLOBI & THE GWO KA MASTERS
PUNKREAS
PUNX XEROX
PURE RAVE
RAIZ
REAL TERMS
RICHIE LEE JONES
ROBERT FORSTER
ROSE CITY BAND
RUBEL
SAINKHO NAMTCHYLAK
SAM GENDEL
SCOTCH ROLEX E SHACKLETON
SILVER MOTH
SLOWTHAI
SPOTLIGHTS
STEVE MASON
SU-A LEE
TALEEN KALI
TEMPLES
THE BRIAN JONESTOWN MASSACRE
THE CHURCH
THE GOD IN HACKNEY
THE HELLFREAKS
THE MUFFINS
THE NEW PORNOGRAPHERS
THE ORB
THE TELESCOPES
THE TUBS
THOMAS BANGALTER
TIM HECKER
TOMASZ SROCZYNSKI
TØRRFALL
TRIO DEROME GUILBEAULT TANGUAY
U2
UNDERSTAND
VAN MORRISON
VINICIO CAPOSSELA
VITALIC
WEDNESDAY
WESLEY JOSEPH
WHEEZING MANIAC
XYLOURIS WHITE
YOSHIMIOIZUMIKIYOSHIDUO
Tag: Blow Up #299 [aprile 2023]
TUTTLE Edizioni - P.iva 01637420512 - iscrizione rea n. 127533 del 14 Gennaio 2000